One of Rich Cording Jr's passions is plantings which means he loves flowers. From time to time, he will write about some of his very favorite flowers. To kick off this recurring feature, he has chosen his absolute favorite flower. 
Rozanne Geranium is not just one of my favorite flowers, it is my ultimate favorite flower. I say this confidently because whenever I ask myself if I could only install one flowering plant in my garden, what would it be? I always answer this question with Rozanne Geranium.
Why So Loved? Because of the Length of Bloom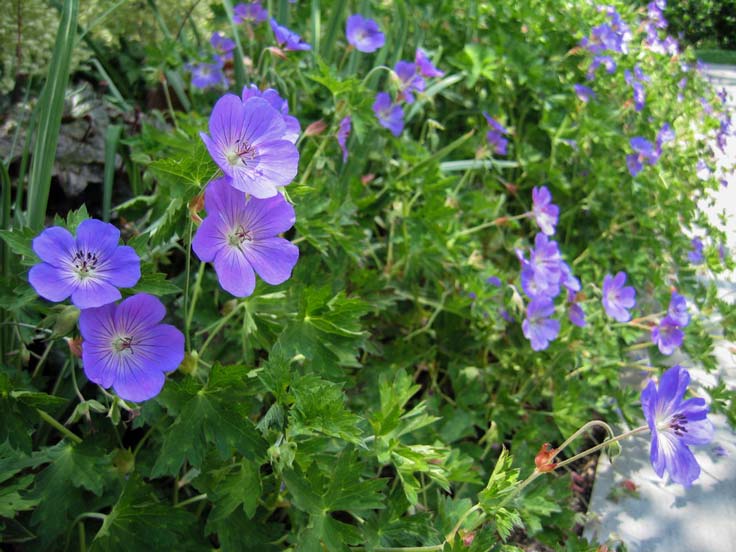 Rozanne Geranium is a perennial that performs like an annual. In New Jersey, she blooms from mid-June through early October for approximately 4 months of non-stop flowers. This is exceptional when it comes to flowering plants in the Northeast. Although a few special flowers bloom for over a month, most perennials in our region flower for anywhere from 1 to 3 weeks. However, with 'Rozanne' Geranium, you get to enjoy as many as 4 months of everlasting flowers!
Where To Use In Your Garden?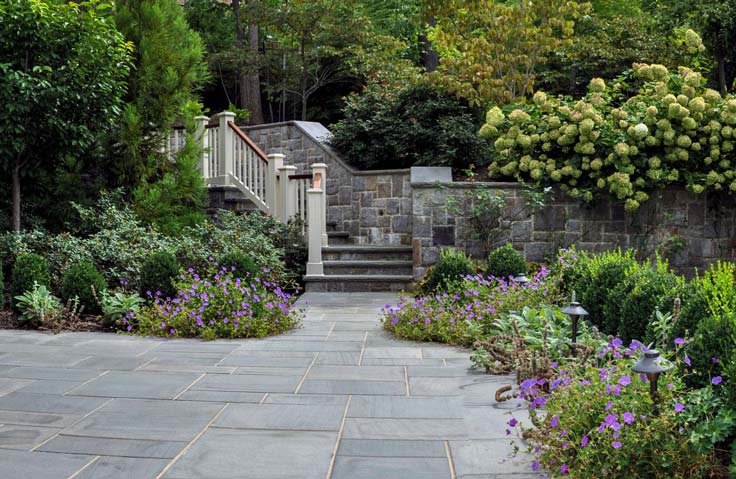 Rozanne Geranium has a low, mounding habit that lends itself as an excellent edging plant along patios and flower beds. This perennial continues to increase in size throughout the summer, so be sure to give it enough space. A single Rozanne Geranium will reach 24"-36" in width by the end of the summer. The size can be controlled to a degree by periodic trimmings throughout the growing season.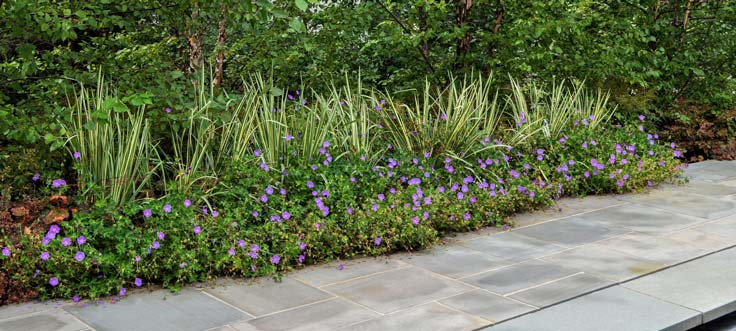 Here, we see Rozanne Geranium used as an edging plant along a patio. I mixed in variegated irises to create contrast in texture and color with the Rozanne Geraniums.
Blending with Other Colors in the Landscape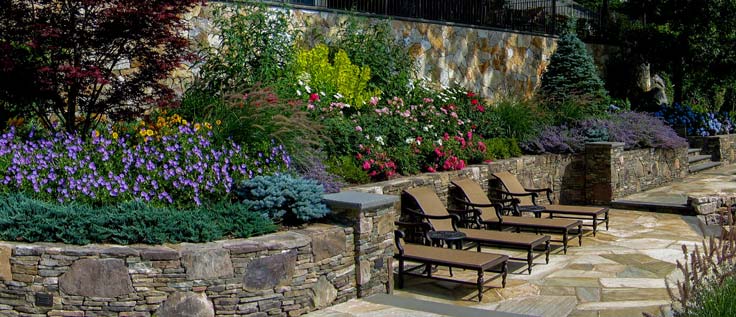 In the left side of this photograph, you see a large mass of Rozanne Geraniums. Their pretty blue-purple color blends excellently with yellows, reds, pinks, whites, and blues in this garden. Rozanne Geranium blends well with all other colors.
What a Pretty Color!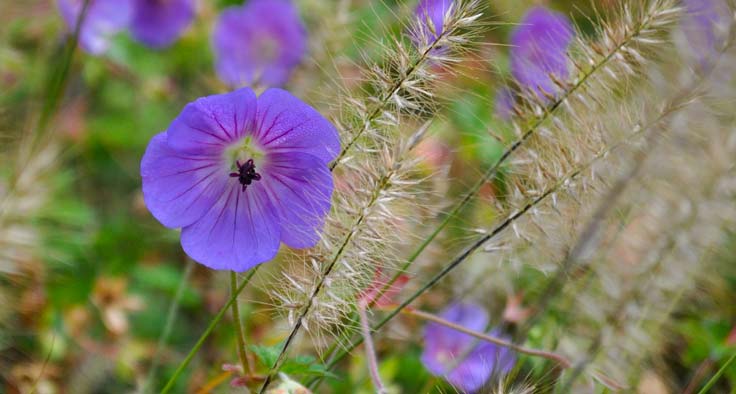 Rozanne Geranium has a very pretty blue-purple flower. I love mixing these perennials with other plants, such as the Dwarf Fountain Grasses in this photograph.
Being Neighborly in the Garden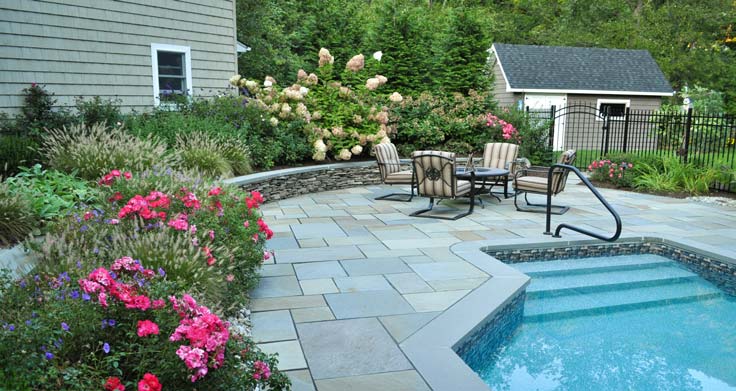 Notice just a few Rozanne Geraniums mixed in the bed in the lower left of this photograph. One of my favorite characteristics of this plant is how nicely it will grow in amongst other plants in a full bed. The purple flowers will reach out to find the sunlight and often grow through other plants creating a natural collage. Here, we see the purple flowers of the Rozanne Geraniums mixing with the pink flowers of the Carpet Roses. However, because the Rozanne Geranium continues to grow throughout the summer, you will need to trim it back periodically to keep it from growing over the top of neighboring plants.
An Extensively Awarded Flower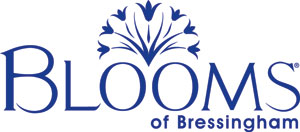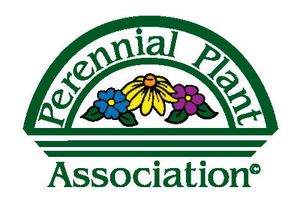 Rozanne Geranium is a Blooms of Bressingham® selection. This perennial has received some very prestigious awards including the American Perennial Plant Association (PPA) Perennial Plant of the Year (2008) and the British Royal Horticultural Society (RHS) Award of Garden Merit (2006).