With over 40 years' experience in the landscape industry, we are rarely surprised by what we find when digging. Well, until recently, that is. We have come, of course, to expect that we will find rocks, roots, and occasional rubbish. At a recent project in Greenwood Lake, NY, we found some trash that would ultimately become a piece of treasure.
This project began as many of our projects do, with a phone call. The client, a full-time resident of Manhattan, informed us that he had recently purchased a weekend home in Greenwood Lake. He was interested in a pool, patio, and complete landscape. When we first met with the client at his home, we knew the project would be a challenge. The home he purchased sat high on a mountainside and offered majestic views of Greenwood Lake. However, as mountainsides tend to be, the home's property was sloped and a sloped site is not the easiest location to install a big, flat object such as a swimming pool.
In order to implement the design created by one of our talented landscape architects, a considerable amount of excavation and grading would be required. This kind of excavation and grading requires the use of heavy machinery. Our excavator, Pete, would be operating a 14-ton Caterpillar 312B excavator. With over 30 years' experience, Pete operates this giant shovel with grace. While excavating for the pool, Pete observed some large pieces of garbage in the soil and he placed these aside because they would need to be recycled.
Rich Cording Jr., who was running the project, inspected the unearth rubbish upon a site visit and noticed that amongst the assorted items there was an old car grill. Rich had never seen anything like this come out of a landscape project before. Always one for thinking outside the box, Rich had an idea. He informed the homeowners of the interesting find and then quickly had it removed from the site. A few days later the homeowner inquired about keeping the grill for a display piece in the landscape beds, but Rich informed them it had been recycled already.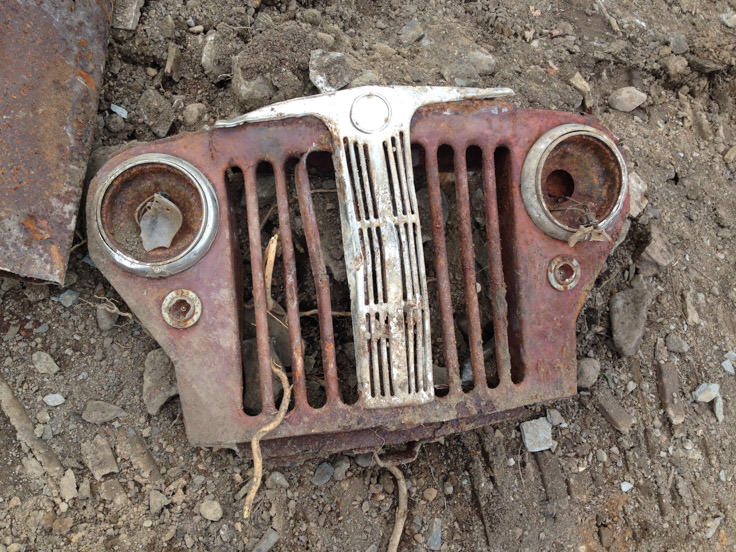 This was not exactly true, however. The grill had a destiny still to be discovered.
The first part of Rich's plan was to deliver the grill to the best classic car restoration guy in North Jersey – Paul Riccioli of RPM Resto and Custom. Paul removed the rust, polished the chrome, and gave the grill a new coat of paint. With an ever-present eye for detail, he suggested matching the color he found deep under the layers of dirt and rust. Together, Rich and Paul decided not to hammer out any of the dents in the grill because they felt keeping its imperfections would tell the story that this item had been buried in the ground for many years.
When Rich received the piece back from Paul, it looked absolutely fantastic. However, Rich's vision for this piece wasn't quite finished yet. Rich envisioned having working lights installed where the headlights had been. Enter Justin Austin, owner of Austin Integration Electrical Services. Rich contacted Justin and explained what he was looking to do and asked him if he had any advice. Justin had some great ideas and when he returned with the grill, it was apparent that this had become a passion project for him and he had gone above and beyond.
Not only did he install lights, but found glass headlights that fit this Jeep perfectly. Under the new glass headlights, Justin installed low-voltage LED lamps that could be dimmed or brightened, as well as, changed to any color, all by use of a small remote control. Everything was installed in such a way that no wires were visible from the front. Justin had one more surprise for Rich.
While researching the grill, Justin found a collector in Ohio who had an original emblem for this particular model. He told Justin that it was a 1948 Jeep Willys Jeepster grill and that he has one emblem in his collection. Justin purchased the emblem and installed it where it had originally been. When Justin dropped the completed piece off, Rich was blown away. The finished piece exceeded even Rich's imagination. There was only one thing left to do.
At the end of each project, Rich meets with the homeowners to review the completed project. At this meeting, he told the homeowners that he had forgotten one thing. He went to his car and grabbed the restored Jeep Willys grill. When the homeowners saw the finished piece, jaws dropped. Having been under the impression that the grill had been discarded the day it was found, it was the last thing they expected to see. They were ecstatic!
The homeowners had a perfect spot for the new piece of art on a wall overlooking their pool table. The grill's new prominent location is less than 50' from its previous location, but this time the grill is not a piece of buried trash, it is a piece of artwork the homeowners' treasure.