CLC Landscape Design is honored to have been recognized with two awards at the recent New Jersey Landscape Contractors Association (NJLCA) Achievement Awards ceremony. The NJLCA is a group of professional landscape contractors "dedicated to advancing the integrity, proficiency, and continued growth of the landscape industry." The NJLCA sponsors the awards to "increase public awareness of environmental improvement through quality landscaping and to encourage the landscape contractor's consistent use of quality materials and workmanship."
2016 is the first year that CLC submitted entries for the NJLCA awards and we are thrilled to have won awards for both submissions. We are honored to be recognized by a group of our peers in the landscape industry and to share this distinction with other industry leaders across the state of New Jersey.
Award of Merit – Sparta, NJ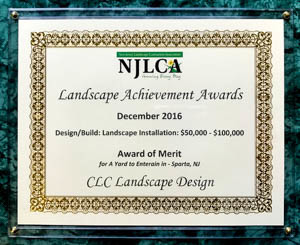 CLC won the Award of Merit in the category of Design/Build: Landscape Installation $50,000 – $100,000 for a project we designed and installed in Sparta, NJ. This landscape project includes a two-tiered outdoor living space perfect for entertaining with a pergola, outdoor kitchen, outdoor fire pit, seat walls, and outdoor TV. Our design team created a multi-level patio in the formerly level backyard adding interest to the landscape design and creating multiple outdoor living spaces. The upper patio is covered with a low-maintenance fiberglass pergola and serves as a dining space. The lower patio is organized around an outdoor gas fire pit and surrounded with seat walls to allow for large gatherings.
Award of Distinction – Randolph, NJ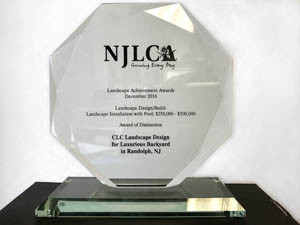 The second award we received was the prestigious Award of Distinction in the category of Design/Build: Landscape Installation with a Pool $250,000 – $500,000 for a project that we designed and installed in Randolph, NJ. Our project created a luxurious landscaped backyard for our clients and their family and friends to enjoy. Our landscape design includes two outdoor living spaces each covered with a pergola and a large in ground swimming pool with spa and waterfall. The custom swimming pool features a raised spa whose water cascades down a boulder waterfall into the main pool. Near the spa and pool, we located a fire bowl whose flames glitters at night in the water of the pool.
We thank our peers at the NJCLA for honoring these two projects with an award.