CLC Landscape Design has been providing award-winning landscape design / build services to the neighborhoods in Wayne, NJ for over 40 years! One of North Jersey's most beloved suburbs, Wayne also happens to be one of our favorite towns to work in. The township's many subdivisions with colonial, split level, and bi-level homes feature spacious yards that allow our landscape architects and landscape designers to work with our clients to design a space that best suits their lifestyle. Whether you are looking to update your existing landscape with new plantings that are easy to maintain or to totally renovate your property by developing a landscape master plan, CLC Landscape Design is the landscaper for you.

CNN Money Magazine ranked Wayne, NJ #83 on a list of the Best Places to Live in America in 2012 and as a landscaping company that has serviced the area for the past four decades, it comes as no surprise to us. Wayne has everything one could want: shopping, restaurants, parks, lakes, and more, all with the added advantage of being packaged in an easily accessible suburban environment. Each of the township's various neighborhoods, from Wayne Valley to Pointview Estates to Wayne Hills, and it's various lake communities, such as Packanack Lake or Pines Lake, has a unique feel to it which can be seen in the architecture and landscaping. Over the past 40 years, CLC Landscape Design has enjoyed working in all of the neighborhoods of Wayne providing landscape design, landscape installation, and landscape maintenance services.
In addition to the work we perform in Wayne, NJ, our designers are plant enthusiasts and love visiting the town's Laurelwood Arboretum. The 30-acre public park was once a commercial nursery and thus contains hundreds of unusual species of shrubs and trees. Speaking of trees, Norway spruce trees from Wayne have been selected to serve as the Rockefeller Center Christmas tree in nearby New York City twice since 2000. We like to think that someday in the future a Norway spruce that we plant will be selected as one of the Rockefeller Center trees!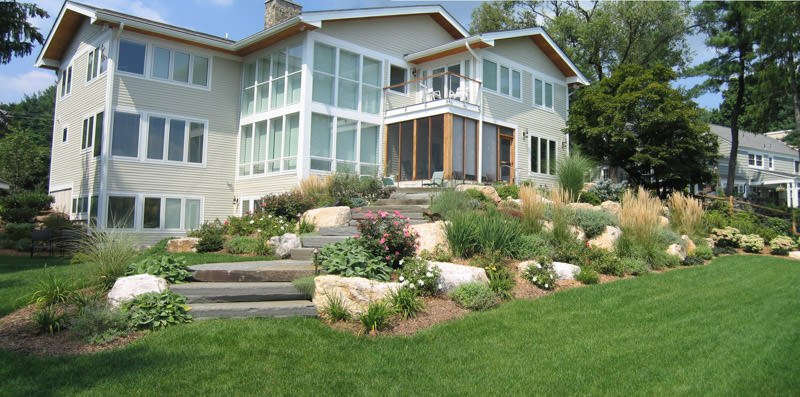 Whether it's a new custom swimming pool a water feature, a patio, an outdoor kitchen, landscape lighting, plantings, or our fine gardening services, we'd be honored to handle any and all of your landscaping needs. If you're looking for a landscape design / build firm with the expertise and experience to landscape your Wayne, NJ home, contact us today to schedule a consultation with one of our talented landscape architects and landscape designers.
"Stan and I would like to thank you and you team for our beautiful patio and the landscaping of our garden. It is absolutely fantastic. I go outside every morning before work to admire it and we're both outside in the evening. I appreciate all of the effort, attention, and care that were devoted to both projects – especially during one of the hottest weeks of the year! It was a pleasure to work with them. I would like to ask you to maintain our landscaped area and do whatever is recommended to keep it growing and looking beautiful. Thank you again from both of us."
Angela & Stan, Wayne, NJ