There are a number of towns that we find ourselves working in more frequently than others and the Village of South Orange is definitely one of those towns. Thankfully, South Orange, NJ is one of our absolute favorite towns to work in and we cannot work there enough! "It's like getting a city, with a backyard," a local real estate agent said in regards to living in South Orange and it is those backyards that are often in need of a swimming pool, a patio, plantings, and more. As a landscape design / build firm with over 40 years experience designing and installing beautiful landscapes, CLC Landscape Design is the perfect company to fill all your South Orange landscaping needs.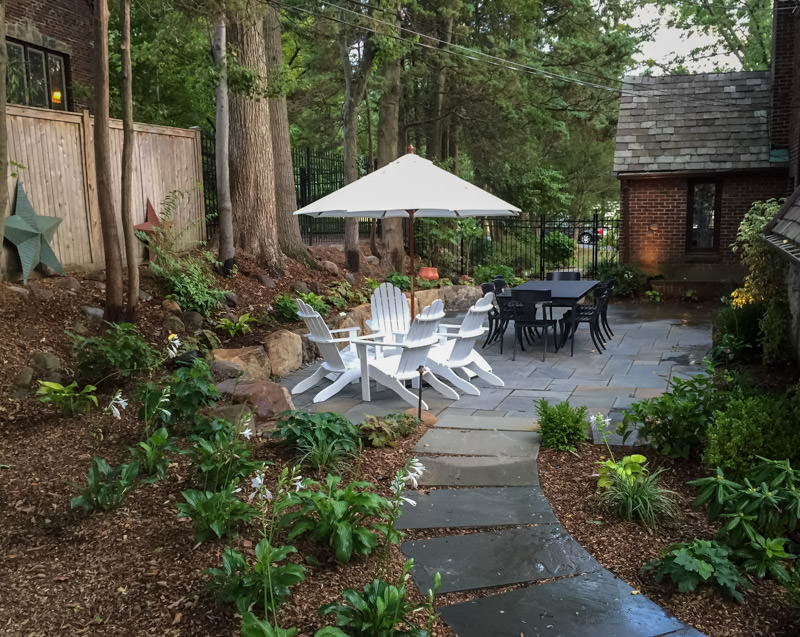 In a 2011 New York Times profile on South Orange, one of the three most common responses given when residents were asked what they liked the best about living in South Orange was "the rich and varied architecture." We could not agree more! The varied architecture, which includes Tudor, Victorian, Colonial, Ranch, and modern style homes, gives the village's neighborhoods charm and character. South Orange is anything but cookie-cutter and our team of talented landscape architects and landscape designers will design a landscape that is perfectly suited to match a home's aesthetic while also fulfilling your landscape desires. We understand that what may look good with one home may not look quite as good with another.
With a number of parks and South Mountain Reservation, a 2,000-acre preserve, it is clear that the residents of South Orange appreciate and value green spaces. Additionally, South Orange, NJ has more designers, artists, and people working in media than the majority of towns. This large population of creative individuals influences the character of the village and consequently the landscaping in Montclair. As "landscape artists," we love working with clients who desire, value, and appreciate beautiful landscapes.
Whether you live in the Montrose Park, Prospect Street, or Tuxedo Park neighborhoods, you have likely seen landscaping that was designed, installed, and / or received fine gardening services from CLC Landscape Design. Many of the village's streets feature gas street lamps and we believe that landscape lighting can only add to the ambience created by the gas street lamps. In addition to ambience, landscape lighting reinforces home security. If you are interested in spending more time in the backyard, perhaps a patio with an outdoor kitchen or outdoor fire pit is the way to go. If you are unsatisfied with your current landscaping, our fine gardening program may be just what you need to ensure that your yard looks its very best year-round.
Whether it's a new custom swimming pool, a water feature, a patio, an outdoor kitchen, landscape lighting, plantings, or our fine gardening services, we'd be honored to handle any and all of your landscaping needs. If you're looking for a landscape design / build firm with the expertise and experience to landscape your South Orange home, contact us today to schedule a consultation with one of our talented landscape architects and landscape designers.
"Thanks to you and the team for making so much progress at our new home.  We love the patio and the lighting and I am looking forward to enjoying the new plantings much more in the spring.  We will look forward to working together more in the spring as well!"
Pattie, South Orange, NJ
"We have thoroughly been enjoying our yard, the driveway, and the patio. The fire pit is the best and we've used it all fall…even on Christmas Eve!"
Steve & Cathy, South Orange, NJ