In a county full of beautiful and affluent towns, The Village of Ridgewood may be one of Bergen County's finest. With its beautiful homes, suburban neighborhoods, and historic downtown district, the village was ranked 26th in a 2011 list in Money magazine of the "Best Places to Live" in America. The same publication ranked the Village of Ridgewood 15th on a list of the top 25 earning towns in the USA. Drive down any street, from North Maple Ave to East Ridgewood Ave, and you are greeted by beautiful property after beautiful property.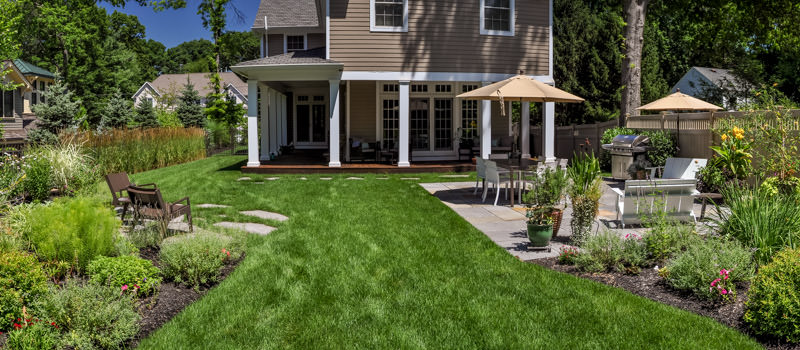 As a landscape design/build company that has been working in Ridgewood for over 40 years, we understand and appreciate the importance that many villagers place on their property's landscaping. Drive through any of Ridgewood's neighborhoods, from The Heights to the West End, and you are likely to see the landscape work of CLC Landscape Design. Over the past four decades, we have designed and installed swimming pools, patios, plantings, outdoor kitchens, pergolas, water features, landscape lighting, and more. As a bedroom community for nearby New York City, many of the village's residents are commuters and we understand the desire to come home to a meticulously manicured yard. Whether your home is a cozy Cape, a classic Dutch Colonial, or an expansive estate, CLC Landscape Design's licensed landscape architects and landscape designers will design a landscape to meet your home's unique architectural aesthetic.
In addition to the landscape services we have provided to Ridgewood residents over the past 40 years, CLC has also been active in the community of Ridgewood. As part of a project to beautify various intersections around the village, CLC is proud to have designed, installed, and continue to maintain a mini-garden at the corner of N Maple Ave and Linden Ave, near Graydon Pool.
CLC Landscape Design has also worked with the Ridgewood Conservancy on other projects, such as the planting of daffodils. In 2010, CLC donated and planted a Redbud tree in Van Neste Square that was dedicated to a past member of the Ridgewood Parks, Recreation and Conservation Board. CLC's Rich Cording Jr., a veteran himself, also worked with the Ridgewood VFW in brainstorming a memorial for the fourteen ash trees that were planted in 1931 at the dedication of Graydon Park. The trees were originally planted for the fourteen young Ridgewood residents who gave the ultimate sacrifice in WWI. By 2011, only a few of the original trees remained, so the memorial was erected in order to tell the story behind the trees and the dedication of the park.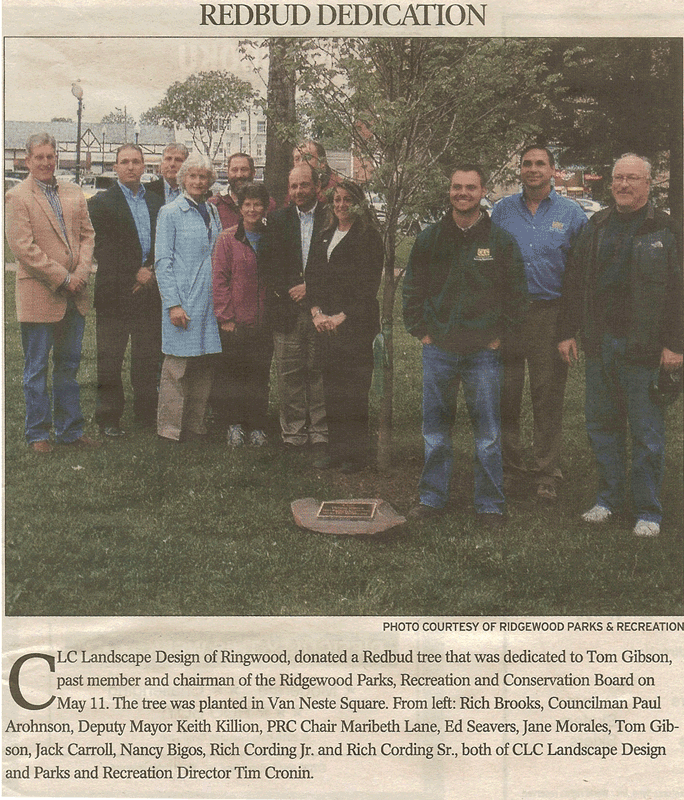 Whether it's a new custom swimming pool, a water feature, landscape lighting, plantings, or our fine gardening services, we'd be honored to handle any and all of your landscaping needs. If you're looking for a landscape design / build firm with the expertise and experience to landscape your Ridgewood home, contact us today to schedule a consultation with one of our talented landscape architects or designers.
"Thank you for making our backyard so beautiful. We enjoyed it very much all summer. I also want to thank you for recommending Ken Appel for our residential alteration / addition. He and his team are highly competent throughout our renovation process. I look forward to working with you on our front yard landscape design."
Laurie & Paul, Ridgewood, NJ
"Have many years experience with CLC Landscape Design. Rich Cording Jr. has redesigned two of my homes in Ridgewood. N.J. He completely overhauled my gardens, removed old trees and shrubs and added new, long-blooming colorful flowers to my home. Professional, courtesy and easy to work with. Follow up customer service was excellent!"
Liz & Steve, Ridgewood, NJ