Before relocating to our current home in Ringwood, NJ, CLC Landscape Design called Bergen County home for many years. Given that Bergen County was our first home, we have been providing award-winning landscape design/build services to the residents of one of the country's most affluent counties for over 40 years! As CLC has grown and changed over the past four decades, so too have the towns that comprise Bergen County, NJ. The two things that have remained constant during all that time are the demand for thoughtful landscape planning and the expectation of spectacular landscape installations. The quality of CLC's designs and installations are of the highest quality and have been exceeding expectations in Bergen County since 1973.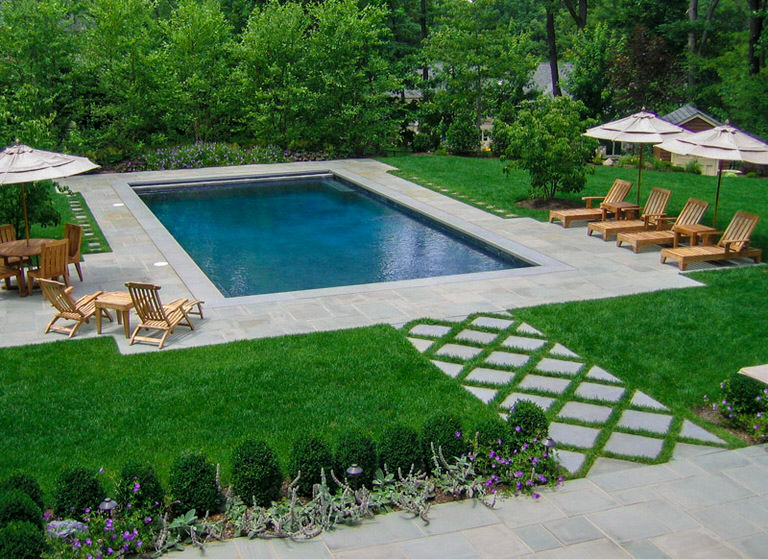 Of all the New Jersey counties in which we provide landscaping services, Bergen County is one of our favorites. The homes in Bergen County are perfect for landscape designs that include any or all of the following: swimming pools, outdoor living areas, outdoor fireplaces, outdoor kitchens, patios, pergolas, plantings, and landscape lighting. In addition to large properties, many of the county's homes contain an interesting mix of architectural styles, from new construction to renovated homes built in the late 19th century or early 20th century. These homes are some of New Jersey's absolute finest. Our talented staff of landscape architects and designers understand that landscapes are not one size fits all and will design a landscape that compliments your home's unique style.
Many Bergen County homeowners work in the city and want to come home to a beautiful and functional property that does not require them to do yard work after a long day. With that in mind, we design and install low-maintenance landscapes and manage every aspect of a project making the entire process fun and easy. Whether you live in Franklin Lakes, Saddle River, Alpine, Ridgewood, Wyckoff, Tenafly, Allendale, Closter, Mahwah, Englewood, or any other town, there is a good chance we have designed, installed, or provided other landscaping services for one of your neighbors.
For homeowners who are pleased with their current landscape design, we recommend considering landscape lighting as a brilliant way to accentuate your existing landscaping while also increasing usability during the evening hours and increasing security. As landscape lighting experts, CLC will design a lighting system that perfectly suits your aesthetic and functional goals.
If you are looking for that something extra that your current landscaper does not provide, CLC's fine gardening program may be exactly what you seek. Our fine gardening division provides Spring Start-Ups to make sure your landscape gets off to a great start each spring and monthly pruning to maximize plant health. In addition, our fine gardeners can add flowers and decorate for each season at your home.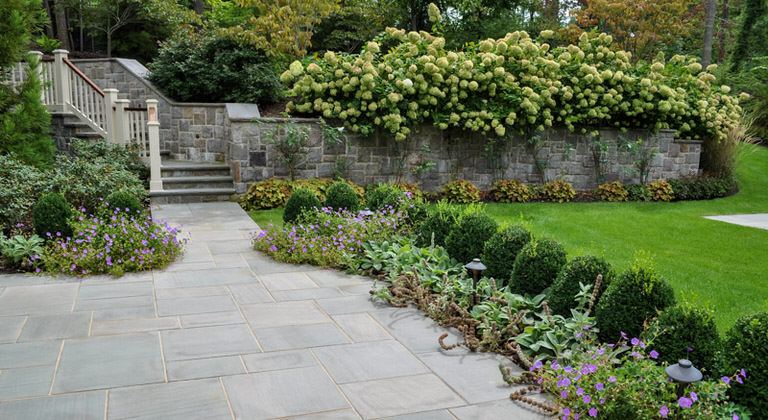 If you would like to work with a design/build company that understands the importance of beautiful landscaping and stunning curb appeal with over 40 years' experience designing award-winning Bergen County landscapes, contact us today! We promise you some exciting design ideas!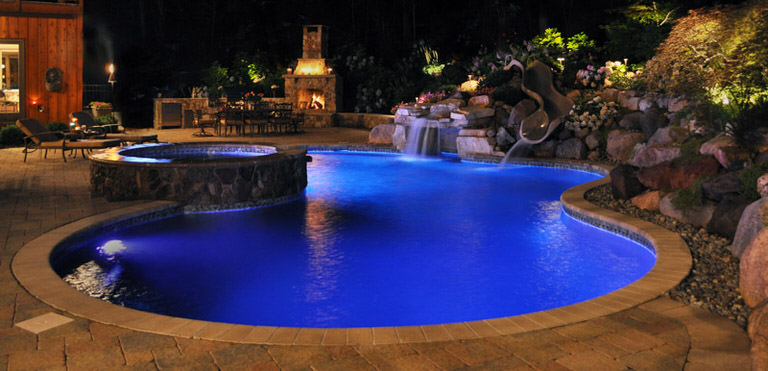 "We are thrilled over the outcome of our backyard project. We have received so many compliments already and look forward to many years of enjoyment. Our compliments to your whole crew including John, Ariel, Rudy, Jorge, but most especially to Rob. His attention to detail and amazing patience and kind, easy-going manner was greatly appreciated. Thank you again and please feel free to use us as a reference any time."
Jackie, Wyckoff, NJ
"CLC Landscaping was contracted to do our backyard project, including, pool with a waterfall., landscaping, 2 new decks, new fencing, landscape lighting, new patio and a fire pit. Every contractor that they utilized was great, the pool company Marson Pools, was phenomenal. The project took longer than anticipated, due to inclement weather, but they made the deadline. Rich Jr., Rich Sr., and everyone who worked on this project were great. We will use them again for sure. We even had Rich Jr. over for our new pool party to show off his work."
Steve & Cathy, Franklin Lakes, NJ
"We have spent the last couple months simply LOVING how you made our yard look. I love everything you put in – the colors, the planting design…everything. Thank you again for accommodating our wedding schedule. Thanks again…for everything!"
Joanne, Franklin Lakes, NJ
"Thank you for making our backyard so beautiful. We enjoyed it very much all summer. I also want to thank you for recommending Ken Appel for our residential alteration / addition. He and his team are highly competent throughout our renovation process. I look forward to working with you on our front yard landscape design."
Laurie & Paul, Ridgewood, NJ